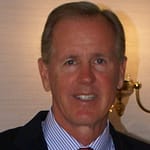 William F. Russell, Jr. has specialized in restructuring and turning around troubled companies, among which were: Ashley Outlet Stores, Inc., V.P. Fifth Avenue Cards, Inc., V.P./Secretary of Dutchmaid, Inc., V.P. of Talbott Outlet Stores, President of D.S. Plumb, Inc., President of Super Glass, Inc., President of Peter Storm, Ltd, and President of Holt Allen, Ltd. He was Director of M&A and Assistant to the Chairman of Gill & Duffus Holdings, Inc., an Account Executive at A.G. Edwards & Sons, Inc., and a Director of Pennine Resources, plc, London. He managed a small hedge fund for eight years and worked in the corporate finance department of J.J. Lowrey & Co. He invented the SeaWing® technology and has been honored with the Popular Science Aviation and MIT Enterprise awards. Russell has an MBA in finance from Columbia University and a BA in english from the University of Wisconsin (Madison).
Government/Military Strategic Partners
Current & Former Team Members
Chairman BHC
Managing Director
President
CEO
Chief Engineer
For the initial New England Territory, the Company will establish an Operations Team in Newport, RI. In addition, Russell has had discussions with several additional management candidates he anticipates will join the Company upon completion of this funding.